Renovation of the stained glass windows of Flatbush Presbyterian Church in Brooklyn, New York, USA
Brooklyn, New York, USA
Aestech & PARITET & INOVIA US
The Gothic Flatbush Presbyterian Church, built in 1898, is one of the symbols of the Flatbush neighborhood in Brooklyn. Although there have been no parishioners here for a long time, life continues to thrive within the church. Today, it is an important focal point for the residents of the area, with the housing galleries, co-working spaces, cafes, shops, art studios, and other initiatives under its roof.
Original handmade stained glass windows adorn the facade of the church, possessing significant historical value and serving as an ornament for the entire structure. Architects involved in the building's renovation sought an aesthetic solution that would protect the windows from the elements and vandalism, given their considerable cost amounting to hundreds of thousands of dollars. The task was interesting and challenging, but thanks to the partnership of PARITET in Ukraine and Inovia US which performed all the support work for this project and is the official representative of Aestech on the Atlantic coast of the United States, we found the optimal solution.
Traditionally, such works are executed using tempered glass or acrylic sheets, but this solution would have compromised the building's aesthetics. Another initial idea was to install arched aluminum structures with an external glazing bead (or external plank). Ultimately, this option was discarded due to the windows' too small incline. Aluminum profiles with thermal break require a mounting depth of at least 60 mm, which would have resulted in the window protruding outward.
The solution was to apply the frameless glazing technology Aestech Glazing based on the insulated glass units with higher stiffness. Unlike standard solutions, Aestech glass units do not require a frame and supporting metal elements, and they can be attached at any angle to the building's trim elements.
This project would have been impossible without the involvement of our partners. We extend our gratitude to our long-term partners, PARITET, and Inovia US.
Our Projects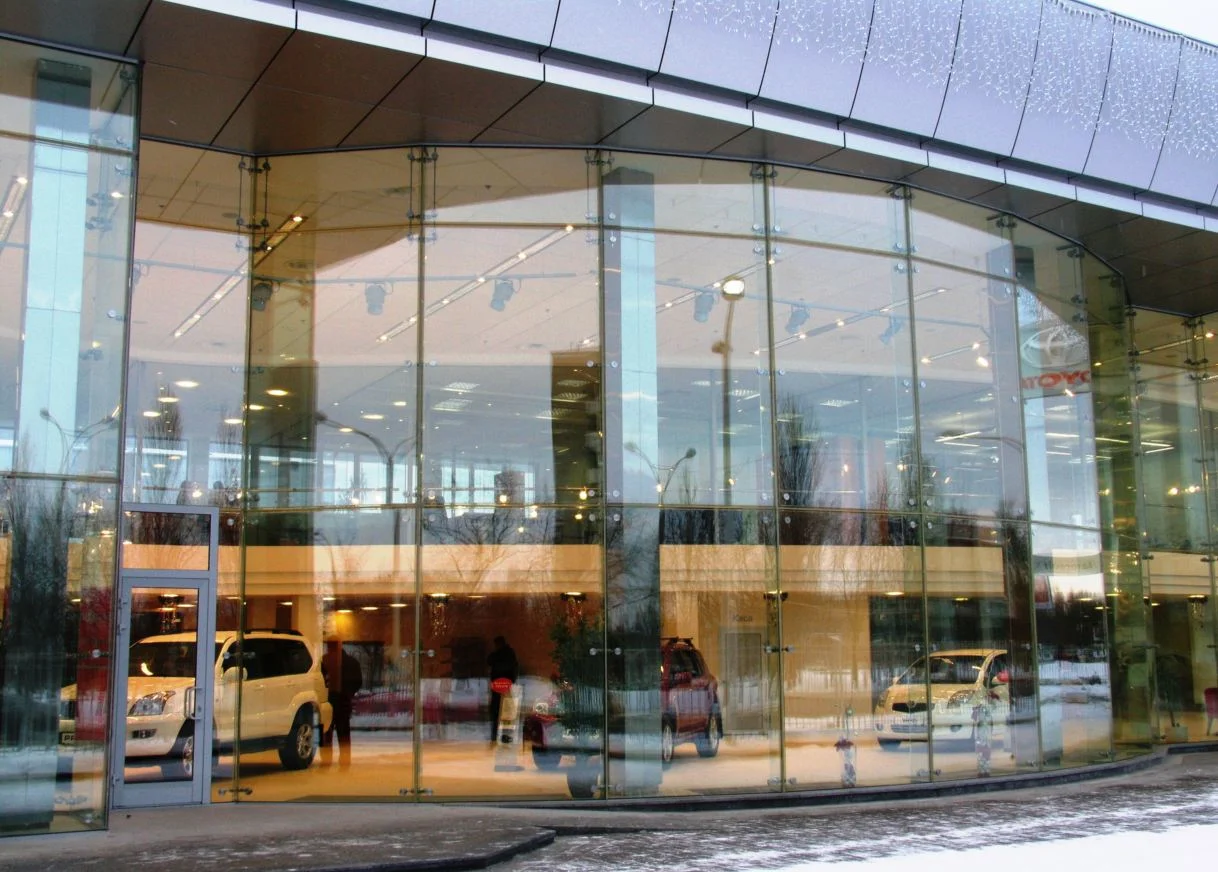 Toyota showroom Autosummit in Kyiv
For more than 16 years, it has been considered one of the most beautiful car showrooms in Europe.
UNIT.City Office, Kyiv, Ukraine
The B14 and B15 buildings project in the innovation park UNIT.City in Kyiv. The main feature is the frameless glass facade and its appearance that changes depending on the lighting.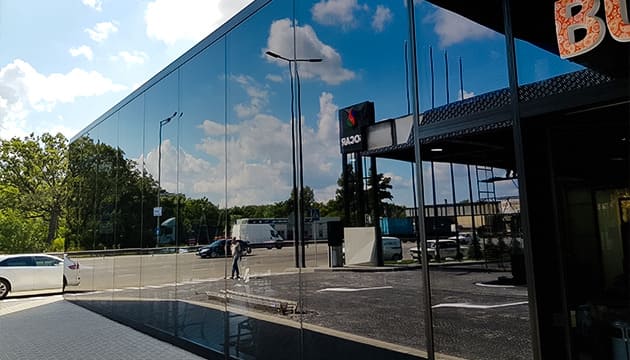 Chain of gas stations, Ukraine
Large-format facades, 4.2 meters high without visible vertical load-bearing elements.