How to create an open museum space and seamlessly integrate it into the city using glass?
The author of the winning project for The Future Glass Prize has the answer.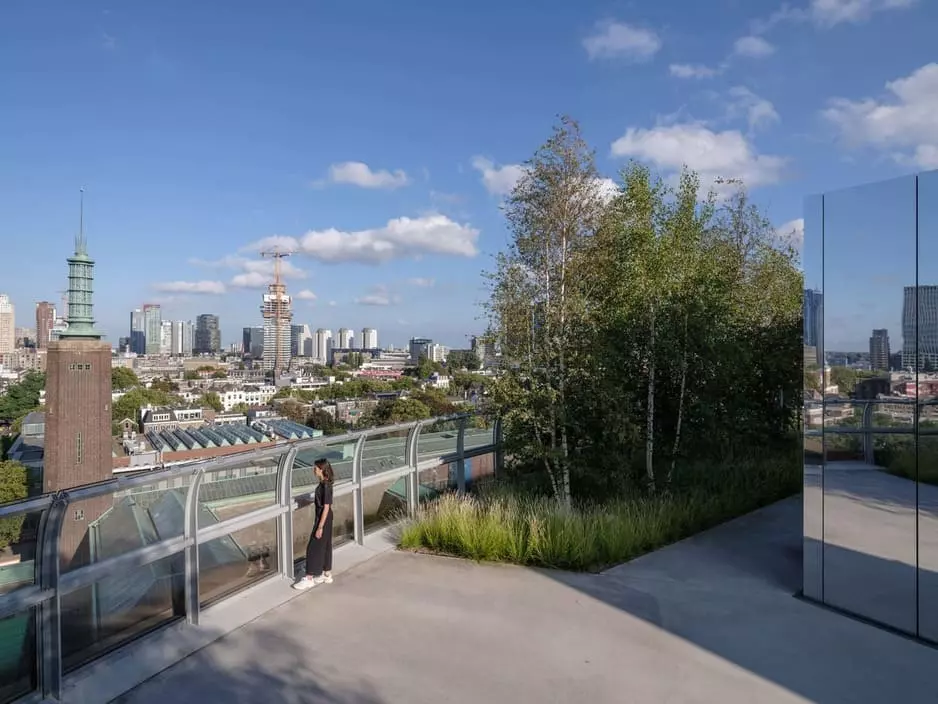 What is the present and future of glass in architecture? Experts from all over the world are ready to answer this question. Aestech is starting a series of interviews with authors of outstanding global architectural projects. We ask them about their path in architecture, development, and sources of inspiration.
Fokke Moerel, an architect partner at MVRDV
Our first guest is Ms. Fokke Moerel, an architect partner at MVRDV. Her development is the first public art storage Depot Boijmans Van Beuningen in Rotterdam. The huge mirrored "bowl" has become a city landmark and a model of ergonomic and human-centered architecture. Symbolically, such a work of art is designed to preserve works of art and highlight them even more.
The project won The Future Glass Prize, a special award at the World Architecture Festival 2022, sponsored by Aestech.
Tell us about yourself. Why did you choose architecture?
Coming from a designer's family, it came naturally. I started with interior design and followed up with a master's degree in architecture straight after. It never really was a hard choice.
Tell us the story of your project. How did the idea to create such a project come about? What inspired you at the beginning and in the process?
To be able to be part of such an addition to the city and such a large cultural and public project is very exciting to me. It makes you think about how to position yourself within a dense environment. Taking all neighbors, visitors, users, etc, into consideration. During the design process, the biggest quest was to find accessibility; how can we make the storage public and give the collection and the taken plot back to the city? During the execution process, the building of such a heavy and constrained object was intriguing. It should not pretend to be the museum (next door) but a civic building. Rough and hyper-efficient for the safeguarding of art.
Inside the Boijmans Van Beuningen Depot
Why is there so much glass in your project?
The museum as an institute needs to evolve; it is time all museums open to the large public, not just the intellectual niche. Glass is an easy metaphor for being transparent; literally. At the same time, it creates a layered interior where people can see in and through. One can create a route as being the curator of their own show.
On the exterior, the building strives to blend with its surroundings and reflect the neighbors and all the activity directly around. The mirrors reflect the city and make the park larger than it now is. The object tries to celebrate the beautiful location and collection it holds inside.
Reliable partners are needed for a project of this magnitude. Do you have permanent partners for your projects, or is each project individual? How and by what criteria do you select them (partners)?
It is always a mix of partners we can bring in and the ones brought in by the client or via a tender. Of course, we prefer to collaborate with parties we know and trust. Although it is necessary to select consultants per project who are connected to the given region or typology. The challenge of new collaborations also brings inspiration and new perspectives.
Tell us about funny/curious situations in the implementation process. How did you handle them?
Each design and execution process is full of these moments; that is what happens when you put architects and contractors together ☺
How do you assess whether the use of this amount of glass is energy efficient? How does this affect environmental friendliness and the budget?
The energy use of the depot building is substantial. It is a fully climatized storage to safeguard the priceless collection for eternity. The system chosen is as efficient as possible; the building structure is very heavy and therewith keeps the temperature consistent. There is the use of solar panels and heat pump etc, to control energy production and consumption in a smart way.
The glass does not play a role in this since it is merely a cover of the load-bearing façade behind it.
Boijmans Van Beuningen Depot in Rotterdam
What are the challenges and advantages of working with glass?
Many! Double curved glass to the maximum curve, perfect (natural) color, the largest size hardened glass panes, the mirror coating with the perfect reflection, the dissolving effect in the mirror coating by a grid of dots, the substructure and mounting system to keep consistent distancing and alignment, the 2nd mechanical safety measures in case of a defect, all manufacturer challenges such as the molds, the right temperature, and duration for the bent glass to cool, transport, mounting, monitoring…..to name a few.
We needed to create a vast volume in a volatile environment; the reflecting effect makes it blend in with the surroundings. That is a big advantage!
Share your opinion about Aestech technology. What innovations in glazing do you like?
We only were acquainted with your company recently but were impressed with the thin glass solution with no frames. Even the window within the very large panes was frameless. That was inspiring to see.
Is it possible to compromise between aesthetics and practicality in architecture? What is more important — aesthetics or practicality?
If we build anything on this planet, it should add value and content. Beauty will come along with it. Pure practicalities can be beautiful too.
What solutions and technologies would you like to use in a future project that you have not yet used in the present one?
It would be great to be able to combine all the latest sustainable means in one project. CLT eg we promote, but is often rejected due to regulation and/or budget. That is a waste.
Name three of your favorite construction materials. Why they?
Recycled glass can have a beautiful appearance when assembled from various colors. It is upcycling rather than recycling only. Again, wood is an amazing building material. For construction, finishing, and furniture; no other material can have so many applications. I love the use of (ceramic) tiles as well since they can have all the shapes and colors you can imagine. The size often scales down a larger object, and the color and texture always show depth and inaccuracy. Showing it is 'alive.'
View from Boijmans Van Beuningen Depot
What are your three favorite architectural projects? What inspires you about them?
Projects that really inspired me are SESC Pomeia Factory in Sao Paulo from Lina Bo Bardi and Kunsthal in Rotterdam from OMA. The first was because of its re-use of a part of the city which was given back to the people. It is all about activity, meeting, and exploring. It is beautiful and sensitive in design, yet with marginal means. It was truly inspiring to wander through the complex and instantly feel part of all the activities you encounter. Kunsthal was under construction while I just started my education as an architect. I could cycle through the building and experience how it was part of the public realm, part of city routes, and how it gave a sneak preview of the ever-changing cultural world inside. It was a completely new experience and typology which challenged me to seek these dynamics between the city and the public. A building still on my list is Heatherwick's Zeitz MOCAA in Capetown. It seems to be a cathedral-like space and a Portman-type atrium at the same time. A celebration of the old, the industrial, culture and especially an invitation for all people.
Can one building make the whole city better?
Sure, one building can have a huge impact on its direct surroundings and even the city as a whole! We have seen that the Market Hall in Rotterdam really affected the number of visitors to the city and therewith the value of the real estate. However, a city is never finished, so more is needed than 1 building only, and it needs to be in constant development. A city is where people live and those people grow and change too.
Are you ready to use the possibilities of Aestech technology in your future projects?
Sure!
What must the architecture of the present give up in order to become the architecture of the future?
It cannot be redundant, wasteful, or ignorant toward our planet!
What personal advice can you give to young architects? What do they need to do to get recognized?
Have fun, be courageous, and investigate the boundaries to innovate.
Find out about frameless glazing